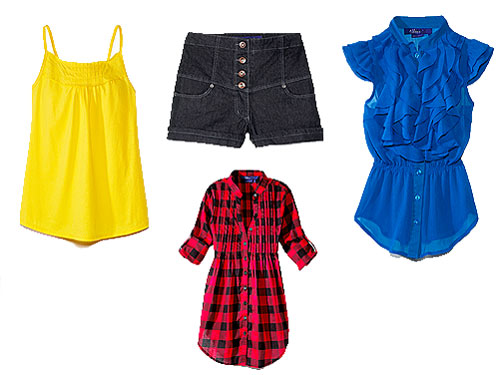 Michael Kraus
When Miley Cyrus and Max Azria's collaboration was first announced, Miley played model to give us a glance at what was to come. And now, we have even more of Miley Cyrus & Max Azria for Walmart to share. From plaid shirts to high-waisted shorts, the line clearly takes its cues from the young star's style. "I wanted to finally make something that was for girls my age. Something me and my friends would wear," Miley tells PEOPLE. "But I'd say anyone from age 8-80 can enjoy this line." While we can't exactly see our grandmother rocking all of Miley Cyrus & Max Azria, we definitely get a funky teenage vibe from it. "My inspiration for the line is kind of an edgy UK style," Miley says. "Every time I go to Europe I love going to all the funky stores. I wanted to be able to bring those fun styles to the girls of America." And though the line just hit Walmart's shelves, Miley is already playing favorites. "I love the leggings. I've seen leggings like our Miley & Max ones that are about $500. Ours are so affordable and they look super chic!" With all the styles in the line priced under $20 fashionistas will be able to stock up on all their favorite Miley & Max looks– like these great pieces! Try the Buffalo plaid tunic, high-waist shorts or blue ruffled-front top for just $12 each and for only $7 you can snag the yellow pleated tank. Now that's what we call a style steal! Shop Miley Cyrus & Max Azria for Walmart now at walmart.com.Tell us: Will you be buying Miley Cyrus & Max Azria for Walmart?
Note from The Fashion Guru:
Unaware of Miley Cyrus and Max Azria coming out with a clothing line, I zoomed right to the clothes in Walmart because they appealed to me. I eyeing this white tee with a  graphic black tie and vest and when I saw her name, I was shocked! I was kind of embarrassed to like her style, but the clothing is cute and affordable. And now I find myself bopping to her new song, "Party in the USA". Oh, the humanity!
The Fashion Guru's Picks:
Colored jeans are love…But colored skinny jeans? That's even better.
Skinny Jeans, $20.00
The shirt I adored.
Trompe L'Oeil Vest Tee, $10.00
Because I love all things British…
Graphic Tee, $7.00
For work or a date night.
Chiffon Ruffle Blouse, $12.00